Mary + John
With 370 guests, Mary and John's wedding was set to be an opulent affair! Greek traditions intertwined with modern ones, marrying at the historic St George Greek Orthodox Church before celebrating at their Greek Club reception. Guests were transported someplace else as they ate, drank and danced the night away under the glittering star-lit sky skilfully crafted by Celebrating in Style.
The Dresses
Mary's ceremony dress was one of the most intricate ever made in the George Wu studio. Completely covered in beaded lace, it featured a plunging neckline with collar, long sleeves and open back. With a train trailing meters behind and tiny beads and crystals glittering in the sunlight, it was the perfect dress for her divine entrance into St George Church.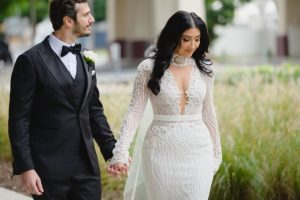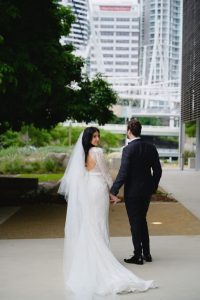 Mary chose to change into a second dress part way through the reception. This dress was also created by George Wu, but much less elaborate than the first. It featured simple and clean lines with cape style sleeves, perfect for twirling and dancing the night away!
Why George Wu
"I loved George's personality, attention to detail and craftsmanship. Every appointment was fun filled – we had opinions coming from different family members I brought into the appointment, great brainstorming and ideas. The finished dress was just amazing, it looked exactly how I wanted it and the fit and customisation was of such a high level."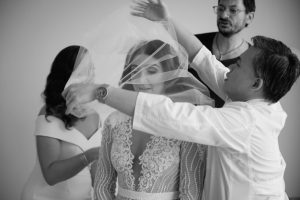 Planning
Planning a wedding for 370 guests and a bridal party of 18 is no mean feat! Stylist Athena from Celebrating in Style and venue co-ordinators from The Greek Club were instrumental in bringing the couple's ideas to life. The wedding parties opted to get ready at James St's lush Calile Hotel, where they relaxed and were catered to perfectly for the morning prior to saying I do.
Of the experience, Mary says if she were to do it again, she wouldn't take everything so seriously, and would try to have more fun with the experience.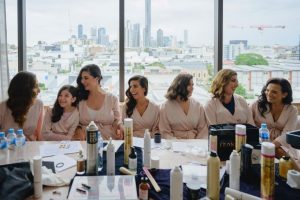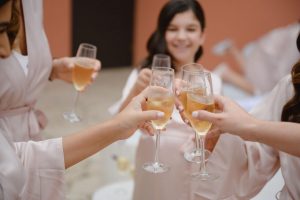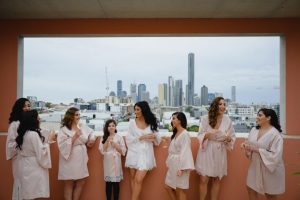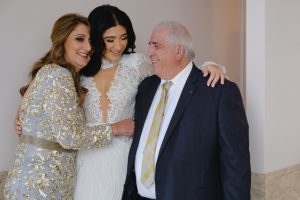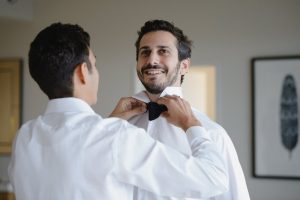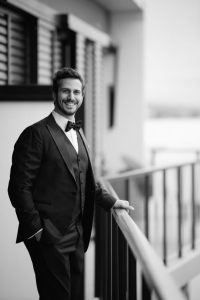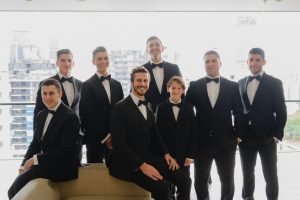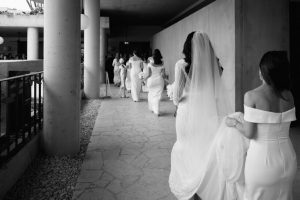 Ceremony
Mary arrived at St George Greek Orthodox Church in a Silver Shadow Rolls Royce, accompanied by her parents. Two flower girls and seven bridesmaids led her down the aisle of the majestic church, where she met John at the alter. "That was the most memorable part of the day", she says.