Vendor Spotlight / Sass + Niki Wedding Hair
Hair styling is so vital to completing your look, so we chatted to owner and head stylist Nicole from Sass + Niki Wedding Hair about her business and what she offers to make your wedding prep and big day run as smoothly as her famous glamour waves!
What's your story? How did you get into wedding hair styling and what's happened between then and now?
I worked as a runway session stylist in my earlier years of Hairdressing. I was on a team of innovative and trend setting hair stylists which lead me to fall in love with the romance of bridal hair design. A lot has changed over the years – now we work with such amazing brands and products and also have a platform to showcase our work and the importance of a professional bridal stylist on the most special day of your life.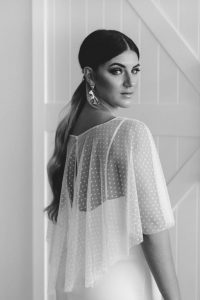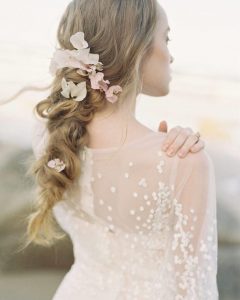 Tell us a little about your background and the path that brought you to wedding hair styling and/or makeup.
I most recently studied as a KEVIN.MURPHY gold key session stylist & salon educator under a team of talented, world renowned stylists. I currently specialise in bridal styling. My career kick start was working as a Runway stylist, but I loved the romance of wedding styling. I take a more modern approach to bridal styling with a niche of Editorial Bridal stylist. I exclusively look after each bride with attention to detail and finesse, I am a highly professional hairstylist always up to date in the hair and bridal industry.
If you could pick one unique product or service that you offer, what would it be?
My unique service is our promise of 'one wedding per day' to my brides. I personally only book one wedding on each date and I look after every bride that books my company. I believe in quality over quantity; my brides receive my undivided attention on their most important day! I truly believe there is nothing more important than making my brides' hair dreams come true!
What tips or advice can you give to couples who are in the midst of planning their big day?
Stay true to you. Have patience and truly enjoy the planning process as well as 'the big day'. Remember it was your love first and the two of you. Look around at all the beauty but remember it's your romance that brought you to this moment.
Always hire professional companies so that on the big day you're in very best hands.
What is beauty to you?
Beauty encompasses a woman's outer and inner beauty shining together on her wedding day. I truly believe the wedding gown is the centre-piece of your big day. I think it's beautiful when a bride chooses complementary hair and makeup to suit her gown and enhance her natural beauty. I love natural hairstyling, I personally take a more editorial approach to wedding hair which I think this is beautiful.
Where does your inspiration come from?
I adore fashion – I'm a classic Chanel kind of girl and am inspired by the world of haute couture. I love bridal gowns especially, bell sleeves. Yes, just yes! French lace and romantic head pieces and veils… ahh I still dream of sweeping gowns 10 years after I married my lovely husband! I've had a subscription to VOGUE since I was a teenager. I'm in my late 30s and my personal style has not changed much over the years. I've always been in love with love.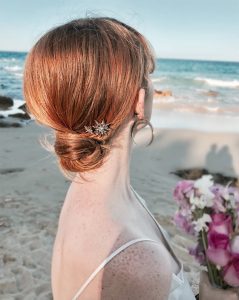 What do you prefer – flower crown, hair accessory, veil, nothing?
I prefer small hair accessories and veils – they are classic. If a veil matches your gown and wedding style, choose the veil 100% as it's the only time you will ever wear one! It really is the finishing touch to your gown and the moment you see it in your hair you become 'a bride'.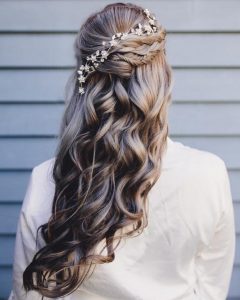 What are you most proud of to date?
My business as a whole! I personally style over 200 weddings a year and I just never in my wildest dreams thought I could have created such a successful company! Every day when I go to work I love and adore what I do. There is a little bit of magic on a wedding day, love is in the air & my brides glow with the anticipation of the start of the rest of their lives. I actually love making them feel beautiful and love seeing their face when her hair is finished. The magic in the last breathtaking moments when I add the veil, finishing the look and she becomes 'a bride' – it's angelic.