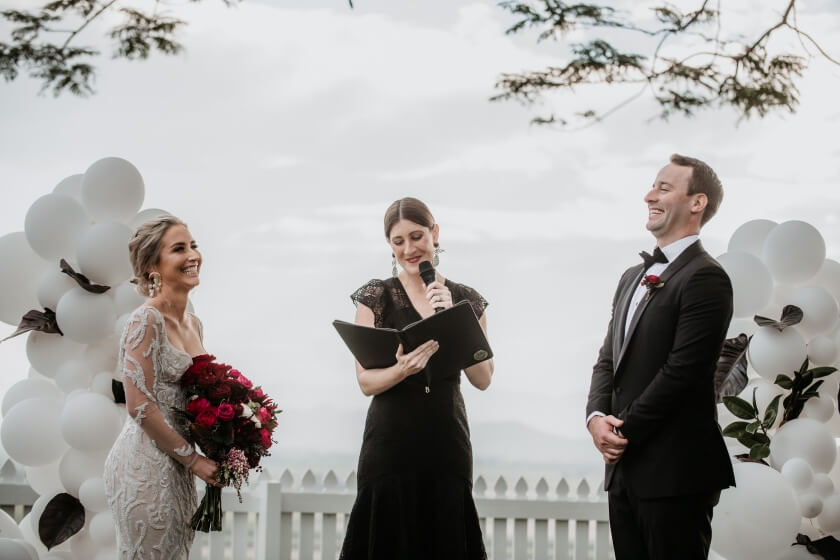 Vendor Spotlight / Carly Slade Wedding Celebrant
Carly Slade is an experienced and professional Brisbane celebrant who is in touch with the needs of today's couples.  She has a reputation for creating highly engaging wedding ceremonies that are personalised to reflect each couple's unique story, style and vision for their wedding day.

We sat down with Carly recently and asked her to share a little more about her experience as a celebrant and her advice for couples when planning their ceremonies.
What makes a great ceremony?
Gone are the days of the ceremony purely being the 'official part' of the wedding that you 'had to have'.  The trend is now toward the ceremony setting the scene for the rest of the day.  A good ceremony and the feelings it provokes can leave your guests buzzing and talking about your wedding day for years to come.
Each celebrant has their own style and strategies for creating a great ceremony.  For me, it's about injecting lots of little personal touches; involving loved ones, sharing some of the couple's words and stories.  And most importantly, asking the couple what THEY want, rather than enforcing MY opinions.
What advice would you give to couples looking for a marriage celebrant?
Before you start looking for a celebrant (or any wedding vendor really), first have a think about what you are looking for.  What do you value, is there a particular vibe you are going for or inclusions that are important to you?  Then look for someone who can match this.
My next piece of advice is to ask around.  Recommendations from your venue, other vendors or trusted friends, family or colleagues can provide an excellent starting point.
Then of course do your research.  But remember, anyone can post a pretty picture on instagram.  Aesthetics are important, but also look for testimonials and reviews from real couples.
What are you most proud of?
I think the greatest piece of feedback I can receive as a celebrant, are guests assuming I am a friend of the couple or connected to them in some way other than as a 'professional they have hired'.  I am always so chuffed when guests come up to me after the ceremony and ask how I know the couple.
Couples also send me the most beautiful emails and testimonials following their day…some have reduced me to tears.  It is such a wonderful feeling when couples choose to include me in their wedding plans.  What an honour it is to meet their parents, grandparents, families and friends and to share in one of the most significant days of their lives.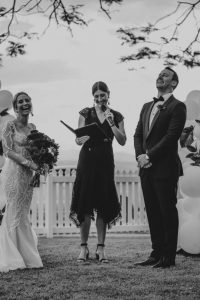 Any final tips?
Remove anything from your ceremony that makes you feel uncomfortable!  I always tell my couples that I am not precious about any of the ceremony material.  "If you want anything reworded, removed or added – please tell me!"  The most important thing to me (and should be to any celebrant) is that each couple is 100% satisfied, comfortable and confident with the ceremony and it's delivery on the day.
This includes vows!  Personal vows are beautiful!  But they're not for everyone.  If public speaking scares the living daylights out of you, talk to your celebrant about other ways to inject sentiment into the ceremony – without you having to say too much yourself.
And my final and most important piece of advice is to take in and enjoy every precious moment.  The day really does go by so quickly.