Alex + Adrian
Alex and Adrian married under a canopy of towering Silky Oaks at O'Reilly's Canungra Valley Vineyards. They said 'I do' by the bubbling Canungra Creek then celebrated their wedding with family and friends in O'Reilly's Marque – drinking, dancing and laughing the night away.
The Dress
Alex wore a custom-made wedding gown by Brisbane designer and couturier George Wu. An inside corset structure accentuated her figure with thick beaded lace swirling over the bodice and skirt.
"I felt absolutely amazing wearing my dress. I have never felt more beautiful and seeing my husband cry at the sight of me… well I can never re-live that!"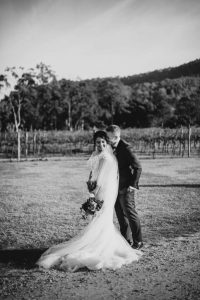 Why George Wu
Alex found George's designs mesmerising, and when they met in person, she knew instantly she loved his vibe. "I could tell he would make my dream dress even better than what I could have imagined."
"My favourite part of the dress making experience was how George explained every step and everything was so meticulous. He and his team were perfectionists and I enjoyed seeing each step come together. I was really happy with how many fittings I had as well because it meant that the dress was truly customised to every curve on my body!
Planning
Alex and Adrian took a relaxed approach to wedding planning after being engaged for two years. They hadn't set a wedding date, but after the spontaneous decision one day to visit O'Reilly's with her mum and sister, Alex fell instantly in love. Their planning process continued from here, and they say they wouldn't change a thing! The couple chose Ivy and Bleu to style their day. The talented team stayed true to Alex and Adrian's overall theme, whilst also adding their own touch. The team, headed by Creative Director and Owner Amanda Turner, were also behind Alex and her bridesmaid's beautiful, vibrant florals.
The Ceremony
"From start to finish, the whole day was so special and magical. But when we shared our vows, I could feel the love and emotion from everyone at our wedding in those moments."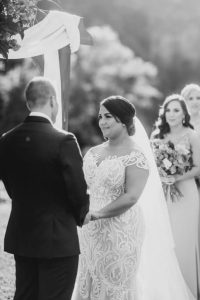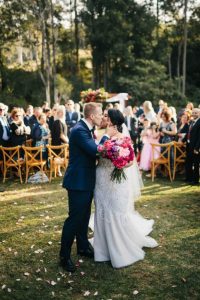 The Reception
The reception was held in the Marque overlooking O'Reilly's vineyard. They opted for a relaxed, warm winter day vibe, with plenty of free-flowing alcohol and laughter.